Optimize your irrigation strategy
It's important to manage soil moisture. Too little moisture in the active root zone reduce yields, while excess soil moisture can cause mould and root rot, and wash away minerals.
Save 10-30% of irrigation water for the same yield of crop according to university case studies
Getting the amount of moisture right is also important for the supply of nutrients. Optimize your irrigation strategy with our advanced and easy to use solution.
Download the infosheet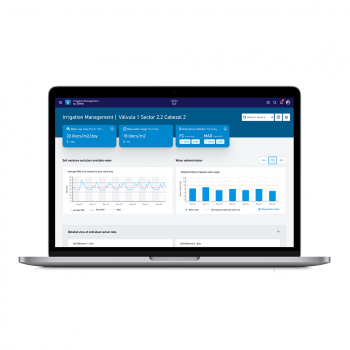 Who is this app for?
Managing soil moisture is an important task for all growers. It doesn't matter if you grow vegetables, fruit, flowers or plants; instinct and experience are always important in this profession, but companies at the forefront use data. Data-driven cultivation is the future, and this easy-to-use app helps you take an important step forward.
Saving water together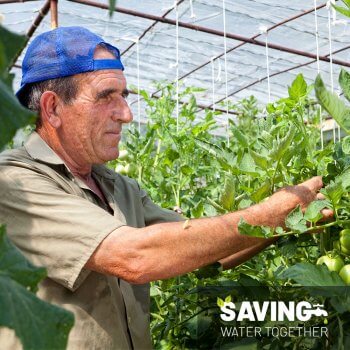 What does the app do?
The app shows you how much water is available in the soil for the plant. A line graph shows you at a glance if your crop has enough water, or maybe even too much.
The Irrigation Management Kit contains four Moisture sensors. The measurement data from each individual sensor is displayed in a separate graph, or you can show the average of the measurement data in a line graph.
This gives you a complete overview plus insight into specific sectors. A bar chart shows exactly how much water has been given. Extra information can also be optionally added manually in registration sheets.
Request a demo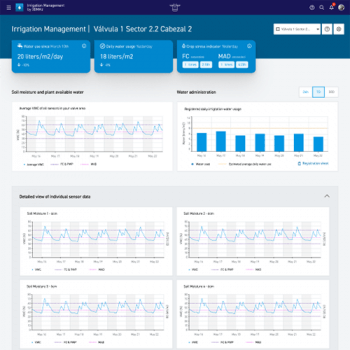 Insights down to micro level
Monitoring this data reveals patterns, and creates insights into what's happening down to the micro level. With all this knowledge, the irrigation strategy can be optimised with all the associated benefits. And you can even set notifications and alarms. If the threshold values are reached, you receive a notification on your phone. A comforting thought.
The key values in the app are the VWC, MAD, FC and PWP. If you'd like more in-depth info, we've got an information guide ready for you.
Download the free guide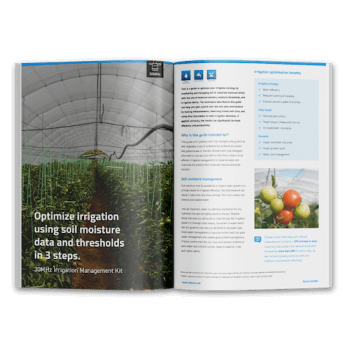 What is the Irrigation Management Kit?
The Irrigation Management Kit was developed to optimise growers' irrigation strategies. The kit contains four Moisture sensors (TEROS 12 model), which carry out the measurements. The gateway collects the data, and forwards it to the irrigation management app where all the data is converted. This allows the grower to see exactly what's happening via clear graphs in the 30MHz dashboard.
More about the kit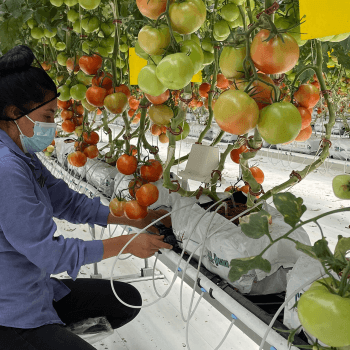 How can we help you digitise your cultivation process?
Analyse all kinds of information from different data sources such as climate computers, sensors and manual input in a central platform. Improve the production process of your crops, plants, seeds or bulbs together with advisors, distributors and researchers. We are happy to talk to you about which service model is most suitable for your company.