Creating a complete dataset in vertical farming solutions
May 10, 2021
Stacked growing beds full of leafy greens under artificial light and in a mesmerising mist. That's the description of an indoor vertical farm at LettUs Grow. It's their mission to bring the point of production closer to the point of consumption and enable anyone to grow food anywhere. This will reduce the waste and carbon footprint in fresh food production. With their vertical farming solutions they aim to boost the indoor farming industry. Analysing data is key to their mission.

LettUs Grow provides technology for vertical farms and greenhouses. The British company combines indoor farm management software with their own aeroponics technology. In their soil-less system the plant roots are suspended in a nutrient rich mist. It's a recirculating system which makes it resource efficient. Because of the controlled environment there is no use for pesticides. The system is created to maximise growing rates, while minimising the environmental impact.
Ricardo Lopes is a plant researcher for LettUs Grow . He started out in the greenhouse industry and switched to vertical farming. He saw that the last 5 years more and more people are starting to take this innovative approach more seriously. "The last few years there is more research being done in this field. Probably the same process that was happening in the greenhouse industry 20-30 years ago."
LettUs Grow and Ricardo are optimistic that vertical farming will find its place in the food supply chain. "Maybe not next year, but maybe in 5-10 years we'll be able to supply a significant amount of fresh products worldwide. Not replacing any other system, but complementary. Especially in large cities."
---
30MHz Sensor Catalogue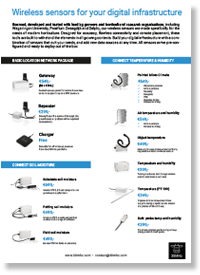 Designed for accuracy, flawless connectivity and remote placement, these tools are built to withstand the elements in all growing contexts. Build your digital infrastructure with a combination of sensors that suit your needs, and add new data sources at any time.
Our wireless sensors are made specifically for the needs of modern horticulture.
Download the 30MHz Sensor Catalogue
---
Tracking CO2 levels for people and plants
Ricardo is testing a large variety of crops in the LettUs Grow system. Always looking for new techniques and methods. "A large amount of my time is spent on analysing data. Either plant data or environmental data. To optimise our indoor farms we had to do a lot of tweaks on environmental performance. In that process it's very important to collect reliable data. We analyse every change we try to implement."
In a vertical farm data is essential, says Ricardo. He tells about a test he recently did. "We started injecting CO2 into our indoor farms. We needed to have a safe way of doing it and monitor the CO2 levels in our R&D chamber. It had to be safe in the farm for both humans and plants. So we set up alarms for higher and lower levels. I monitored the data a few times a day in the 30MHz platform and it all looked as it should."

Measure the indoor farm environment
In such a controlled environment, Ricardo relies on various data sources. He needed a place where all these different sources come together, so he could do quick checks on environmental data. LettUs Grow needed a platform to provide a realistic image of the environment inside the vertical farms.
"We had a good data set for what the farm was doing, but reliable and constant environmental data was something we didn't have at the beginning. Now we have everything. We can check data back to the minute in the 30MHz platform. It's useful to see the fluctuation during tests with different levels of temperature and humidity, for instance. The 30MHz platform is a visual way of spotting any problems or spotting if something did go wrong at any point overnight or over the week. It made it a lot easier. Where we need high quality environmental data, we use 30MHz."
For LettUs Grow it's all about optimisation of the controlled environment. To optimise it they need a lot of data and a reliable perception of what is happening inside the vertical farms. "That's only possible when you have decent sensors and all your data in a digital place", says Ricardo. "Horticulture is more and more dependent on data and what data tells us."
Indoor farm or any other growing environment: 30MHz can help you get more out of your data.
---
Monitor crop-level and climate insights in one platform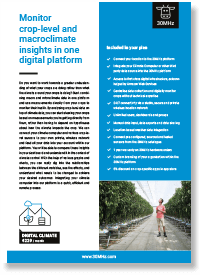 Do you want to work towards a greater understanding of what your crops are doing rather than what the climate around your crops is doing?
30MHz Digital Complete combines macro and micro climate data and uses measurements directly from your crops to monitor their health. We can connect your climate computer and various crop-level sensors to your private wireless network and feed all your data into your account within our platform.
Download the information about Digital Complete
---
How can we help you digitise your cultivation process?
Analyse all kinds of information from different data sources such as climate computers, sensors and manual input in a central platform. Improve the production process of your crops, plants, seeds or bulbs together with advisors, distributors and researchers. We are happy to talk to you about which service model is most suitable for your company.

Steven Madern
Account Manager