Apps
Looking for a future proof way of sharing expertise in horticulture? We have the tools to help. Apps are a perfect way to deliver knowledge directly and digitally to your customer. Industry leaders like Eurofins and Delphy have their own apps on the 30MHz platform. Their customers can receive real time data, analysis and consultancy via the platform. Making it easier and time saving to work with data. With our software toolkit it's easy for any business to let their own application be developed.
View the apps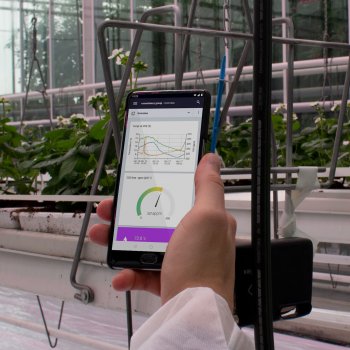 Widgets
Receive a mention when you've hit your desired amount of
Growing Degree Days
, see the realtime VPD level of your crop or get detailed weather data straight from satellites. With our widgets you can get the insights you need to grow smarter. We've built features that help you make decisions and save time. These widgets can be used to get a complete picture of your growing environment.
Integrations
Integrations make sensor data even more powerful. We can integrate all climate computer data into your digital 30MHz ecosystem to future proof your data journey. Integrations of other data sources into the 30MHz platform offers growers a deeper understanding of crop needs on both macro (climate computer data) and micro (wireless sensor data) levels. The result is tangible insights growers can respond to. Ideal for preventing crop loss and saving energy.
¿Cualquier duda sobre integraciones?
¿Quieres saber más sobre nuestros sensores, plataforma o API? Pregúntanos lo que sea, estamos para ayudarte.